Chinese medicine in Mendoza will be the protagonist of a documentary
A newcomer to Mendoza, the Dr. Ting Weng Chungu with the director liu haiping They passed Saviour to tell us about this activity. The host of the guests is the director of the Higher Institute of Chinese Medicine in Mendoza, louis rouxwho said in the program Thanks a lotJoe came to Mendoza to make a documentary on the establishment of Chinese medicine in the West.
During the space offered by Ana Maria Vega, Roux explained that "there has been a significant development of Chinese culture in Argentina, but the greatest progress has been made in Mendoza". While the acceptance of Chinese medicine is important, complementary medicine has long been well received and accepted, but we face obstacles in achieving regulation as a health activity". In Mendoza, Public Health recognizes this. And this is an important step.
Chinese medicine came to the country in the 1980s without any scientific concept, which raised many voices against it.
Luis Roux commented that Chile reached the regulation of Chinese medicine in 2008 by demonstrating the effectiveness of acupuncture, by which a decree allowed registration through an examination that must be passed. The difference with Chile, explained in context in Mendoza, is that once you graduate, you are already registered.
For his part, Dr. Ting noted that "in Argentina, acupuncture is known as part of pain treatment," said Dr. Said, who also spoke about the impact on chronic diseases. He discussed the pros and cons of allopathic and Chinese medicine as supplements. "We have a more global vision, and we pay attention to bodily expression, in addition to the symptomatology, "the body is in constant expression", she concludes.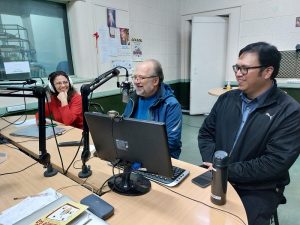 To study the technique that brings you closer to Chinese medicine, Luis Roux said only a full secondary at the institute is needed.
,
Thank you very much from Monday to Friday from 8 am to 12 pm.
Conduct: Ariel Robert, Emilio Vera da Souza.
Journalistic contribution: Carolina Quiroga.
Mobile: Javier Costarelli.
Voice-over: Edward Pickmal, Natalia Poutasso
Chronicles and special participation: Monica Borre, Ana Maria Vega, Esteban Rodriguez, Germán Ezarque, Juan Manuel Gispert, Marcos Pérez Linares, Ral Mercau.
Collaborators: Elena Quintero and Pedro Saborido.
Technical operations: Patricia Cortés, Carlos Martin, Gustavo Torres.
Producer: Natalia Tissera, Mariana Ferreira, Anna Maria Vega, Gretel Videla
Social networks: Belen Ferrando and Francisco Bustoso
,