SBS language | Demand soars for Chinese medicine to treat COVID-19 despite Australian ban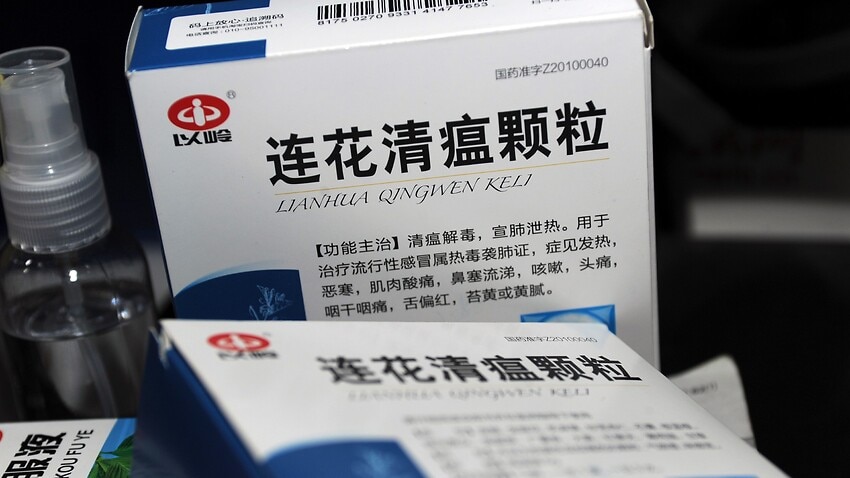 ---
Strong points
Some members of Australia's Chinese community are stockpiling illegal traditional Chinese medicine to 'treat' Covid-19
Lianhua Qingwen is banned in Australia because it contains ephedra, used as a precursor to methamphetamine
Last year Australian Border Force seized nearly 150,000 capsules containing ephedra
---
It is Chinese medicine often compared to paracetamol.
Lianhua Qingwen has long been used in mainland China to treat colds and flu-like symptoms.
Traditional Chinese medicine is also given to children, but in lower doses.
Since the start of the pandemic, Chinese authorities and scientists say it is even effective in alleviating the symptoms of Covid-19.
This has prompted some members of the Chinese community in Australia to stock up on medicines available in China over the counter and on prescription.
"Lianhua Qingwen is very effective for symptoms like the common cold," said user Amy*, who recently bought boxes of the "anti-pandemic treatment" on a Chinese e-commerce site.
But the capsules are illegal in Australia because they contain ephedra, which is used as a precursor to methamphetamine.
In 2020, the Australian Border Force (ABF) seized 1.3 million capsules containing ephedra and made over 3,000 detections of the substance.
Last year there were only 262 detections, which equates to just under 150,000 capsules.
Regarding the sharp decline in the number of detections over the past two years, an ABF spokesperson told SBS Chinese: "This is likely related to the timing of the Covid outbreaks in Australia as well as the deterrent effect significant seizures on illegal imports of ephedra."
Pharmacology professor at the University of Western Sydney, Chun Guang Li, said it's possible extracts of ephedra alkaloids in Lianhua Qingwen could end up being used to create methamphetamine.
But he said making the stimulant drug from the drug would be a time-consuming and expensive exercise.
This is because there are low levels of ephedra in Lianhua Qingwen and it would be difficult to isolate the ephedra alkaloids from the "hundreds" of different compounds that make up the drug.
"It's usually easier [to make methamphetamine] over-the-counter use [Western] cold and cough medicines or nasal decongestants, which contain pure ephedra alkaloids to make methamphetamine," Professor Li said.
SBS Chinese spoke to Oda* who sells boxes of capsules to Chinese customers in Australia.
She said one of her shipments was seized at the border in November.
"I recently shipped another 400 boxes and delivered security to Sydney [after that]," she said.
Online merchants charge customers $22 for a box of 24 capsules, six times the drug's retail price in mainland China.
SBS Chinese also discovered that some Asian supermarkets were illegally selling the drug under the counter at $30 a box.
Oda said the huge margin was one of the main reasons she and other traders found places like Australia to be an attractive market.
"I thought it didn't matter if one of my shipments got seized at the border," she added.
"I'll make it up on the next delivery."
Australia's Therapeutic Goods Administration advises consumers to exercise extreme caution when considering buying medicines over the internet.
"Products that are not regulated by the TGA may contain undisclosed harmful ingredients or toxic contaminants that may pose a serious health risk," the TGA spokesperson said.
The use of ephedra in Chinese medicine has a long history and has been associated with the treatment of asthma.
Lianhua Qingwen was developed by Yiling Pharmaceuticals in response to SARS in mainland China 18 years ago.
Ephedra is not an approved Covid-19 treatment [in Australia] and should not be treated as such.
The TGA said ephedra can pose serious patient safety risks, including cardiac toxicity (potentially triggering a sudden heart attack), irreversible eye damage, and severe blood sugar depletion, which can lead to coma.
Use of ephedra as a dietary supplement has been associated with serious adverse effects, including high blood pressure, heart attacks, muscle disorders, seizures, strokes, psychosis, irregular heartbeat, loss of consciousness and death, according to the TGA.
Professor Li said there is limited evidence showing the effectiveness of Lianhua Qingwen in improving certain symptoms of Covid-19.
He said he was aware that people in mainland China used the drug "a lot".
But one thing you need is a doctor's prescription. Even if you have access to the drug, you don't have to manage it [intake] yourself.
Australia allows the importation of small quantities, up to three months' supply at the manufacturer's maximum recommended dose, of certain drugs that are not approved in Australia.
Users must be able to show written authority such as a prescription from an Australian licensed doctor.
Without an exemption, the illegal commercial importation of ephedra is punishable by up to 25 years in prison or a fine of up to $1.1 million under the Australian Penal Code.
Individuals can face up to seven years in prison and fines of up to $250,000.
Despite the ban, shipments from Lianhua Qingwen continue to pass through customs and head to black markets and medicine cabinets.
Amy told SBS Chinese that she entered Australia with the banned drug in her suitcase without declaring it to customs while understanding the potential risks of confiscation and punishment.
"It was mixed in with my other stuff, so customs won't find it so easily," she said.
A Chinese resident, Lily*, told SBS Chinese that Lianhua Qingwen is used by "everyone" in China.
Before migrating to Australia six months ago, Lily was told she couldn't legally bring it into the country.
Instead, she successfully airlifted capsules to herself. A fortnight later they arrived on his doorstep in Melbourne.
"I heard how bad Covid was in Australia so I wanted to take every precaution to take care of myself and my family in Melbourne."
*Amy, Oda and Lily have chosen not to disclose their real names.