Special feature – Chinese medicine has faded from Portuguese memory
The first Jesuits in Macau became interested in Chinese medicine, but the Portuguese authorities did not intervene until 1999
Macau Business | January 2022 | Special report | Traditional Chinese Medicine – Breathing New Life
---
History has provided the ethnic Chinese population of Macau with many reasons to complain about the disinterest on the part of the Portuguese colonial administration. Rarely has this been felt more strongly than in the health sector.
Although the Chinese locals have always (far) outnumbered the Portuguese, and in light of the keen interest they had and continue to have in Traditional Chinese Medicine (TCM), it is remarkable that the first services of TCM to be provided at a government health center (in this case, the Fai Chi Kei Health Centre) had to wait until 1999.
In other words, it was only a few months before the handover that the Portuguese authorities finally opened up to TCM.
Traditional Chinese medicine has evidently seen tremendous growth since then, with residents of Macau now able to visit several local health centers and hospitals for free traditional Chinese medicine services, including consultation, acupuncture and herbal medicine.
Interestingly, Macau's modern political and social disinterest in TCM has no roots in historical antecedent.
At the end of the 16th century, "missionaries opened St Paul's College, which was the first institution in Macau to take an interest in TCM and provide TCM pharmaceutical services," says Manlin Peng.
The researcher from the School of Management at Guangdong University of Science and Technology goes further: "The university pharmacy imported herbal medicines from Guangdong Province. The priest also wrote books related to TCM and prepared simple herbal medicines himself, which led the local Portuguese in Macau to start accepting traditional Chinese medicine, having witnessed its effectiveness. obvious.
After this absolutely pioneering experience, disinterest set in.
"In the middle of the 19th century, there were only three hospitals in Macao, but the Chinese refused or at least resisted care from one of these Portuguese hospitals, because they thought that dying in one of these establishments would bring misfortune to those around them," adds Professor Peng.
It is precisely in this context that "Chinese communities have spontaneously created several charitable social organizations to provide free medical care and TCM services to the general public".
Associate Professor Bernice Lam Nogueira, School of Health Sciences, Polytechnic Institute of Macau, explains that Kiang Wu Hospital, the first Chinese hospital to provide TCM services to Chinese people, was established in 1871. However, he gradually turned to biomedicine and stopped offering TCM services. in 1944.
In the mid-1980s, influenced by TCM's global expansion, it began to offer TCM services again, but on an irregular basis, she adds. It was not until March 1998 that TCM was fully relaunched and allowed to expand into the current diversified offering.
Two decades after Kiang Wu opened its doors, the Tung Sin Tong Clinic, the first dedicated TCM facility, was established in 1892, offering "free consultations and herbal medicine to Macau sufferers regardless of their nationality, race or social status," Lam points out Nogueira. It began to be subsidized by the Macao government in 1989.
According to a Macau-based research team led by Kou Seng Man, "TCM and its preparations have a long history in Macau, with several stages experienced: it persisted through the transmission of Western medicine to China, which then taken its place, only for TCM to then be reborn and reach the present phase of reciprocal stimuli and common prosperity.
Their article goes on to reveal that "During World War II, it was mainly TCM institutions that offered relief services, including death support and medical and emergency treatment using Chinese medicine. During the rescue operations, they demonstrated the typical virtues of the Chinese people, promoting social stability, making historic contributions when welcoming refugees and providing humanitarian aid. It was at this point that Chinese medicine began to revive.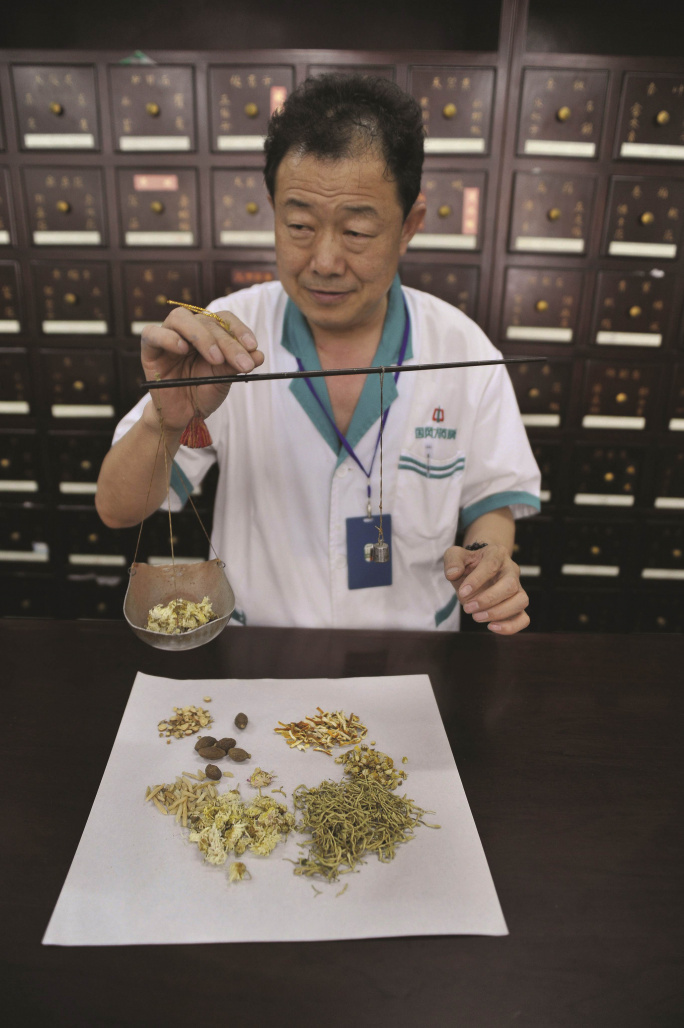 It was only in 1990 that the Portuguese administration of Macau, in particular the Health Bureau, began to take an interest in TCM: its decree-law n° 84/90/M established criteria for licensing and registration of health professionals, including Chinese TCM doctors and herbalists. This ordinance stipulates that TCM doctors must obtain a certificate of higher education in TCM from a recognized institution in Macau, Portugal or mainland China and that Chinese herbalists must obtain recognition of relevant knowledge from the Chinese Medical Association. .
Kou Seng Man points out that currently, "As the MSAR government regards the TCM sector as an essential industry for economic diversification, it has launched a series of positive measures to support the development of education, scientific research and the industrialization of traditional Chinese medicine."
Public health centers have been offering TCM outpatient consultations since 1999. Currently, the traditional Chinese medicine service is available at Nossa Senhora do Carmo–Lago, Ilha Verde, Fai Chi Kei and Areia Preta health centers.
"Additionally, outpatient clinics in health centers have a referral mechanism," the Health Bureau says. Macau Business. "TCD and Western Medicine outpatients can be referred to the other service, so that the goal of providing a holistic health care service is achieved."
With the approval of the Macau government, the Faculty of Traditional Chinese Medicine at Macau University of Science and Technology (MUST) was established in 2000, with its bachelor's degree program in TCM available immediately.
But the year 2002 can be seen as a real turning point: in that year, the University of Macao established its Institute of Chinese Medical Sciences (ICMS) and its State Key Quality Research Laboratory in Chinese Medicine (SKL -QRCM), devoted to promoting TCM research and developing local talent in the interdisciplinary fields of biomedical and pharmaceutical sciences.
ICMS/SKL began offering MSc programs in Chinese Medical Sciences and Medical Administration in 2002.
In 2011, the Ministry of Science and Technology of the PRC entrusted these two institutions with the establishment of a national key laboratory to assess the quality of medicines, and that same year the Guangdong-Macao Cooperation Framework Agreement was signed, which provides for the construction of a science and industrial park of traditional Chinese medicine in Hengqin (see the history of the park in this special file).
Kou Seng Man concludes: "In reviewing the history of the development of medicine and Chinese medicines in Macau, we find that it has gone from a stage where no attention was paid to another where it is recognized and affirmed, having left the popular sphere for the governmental domain. It has grown beyond the local level and succeeded in internationalizing, indicating that the development of TCM shows a strong trend of advancement, relying on the unique strength of its history.
---
WHO Collaborating Center
The WHO Collaborating Center for Traditional Medicine in Macau was established in August 2015 with the help of the global health body and the Chinese central government.
The website of the Health Bureau informs us that in the same year, the Ministry of Science and Technology of the PRC entrusted the establishment of the State Key Laboratories of Quality Research in Chinese Medicine (SKL-QRCM) to the Macau University and Macau University of Science and Technology. Technology, the Macao SAR government signed a cooperation plan with the World Health Organization (WHO) on July 28, 2011, for a period of four years. During this preparation for the establishment of the Collaborating Center, "the Macao SAR government has been actively engaged in the work of WHO in the field of traditional medicine and has collaborated with WHO to organize and host multiple international training workshops and seminars and form a solid foundation for capacity building in traditional medicine in Macau.
Upon conclusion of the first four-year cooperation plan in 2015, the Macao SAR government decided to seek WHO approval to establish a Collaborating Center for Traditional Medicine in Macao. The WHO Collaborating Center for Traditional Medicine in Macao was officially established as a subsidiary of the Health Bureau, and the two sides signed a new four-year cooperation plan to collaborate on various aspects of traditional medicine .
Going forward, the Collaborating Center will serve as a platform for collaboration between the Macau SAR government and WHO, who will work together to promote the integration of traditional medicine into healthcare systems internationally. primary health care and to build the capacity of government officials responsible for TCM. .
Previous | An industry in a stable state